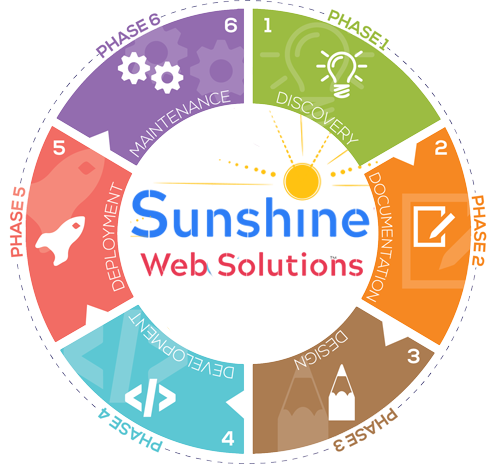 About Sunshine Web Solutions
Sunshine web solutions is an information technology company was established in the year 2011 with domain registration and web hosting services and now reached a leading customized software's and comprehensive web solutions provider. We are passionate of our product's quality, timely deliverance in cost effective manners. We are a team of specialist of each segment in building impressive solutions for you and giving undoubted sales after service with smiles on the face.
We are Ahmedabad based and having multiple branches company in Gujarat with our unique methodology for every step of the way, from business model to implementation with smooth transition. We provide your business with wide range of services with ton of experience. We have multi talented web & Software development engineer team with latest technology in the world. We provide Web design and development, Android & iPhone App development, Custom application software development, Portal development, SEO (search engine optimization), E-commerce solution, Product development and much more to enhance functioning and extend the power to harness identity for small organization to large corporate.